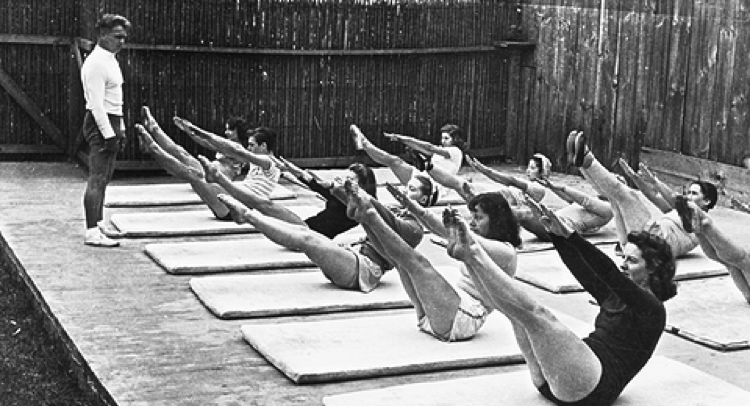 The Pilates Method was developed by the late Joseph Pilates, who was born in 1883 near the German town of Dusseldorf. A delicate child, he became interested in physical fitness programmes to improve his body image. Assisted by his father, who was a keen gymnast, he became an enthusiastic sportsman, participating in boxing, diving, jiu jitsu and gymnastics.
He travelled to England in 1912 and was interned there during World War I due to his nationality. During his internment at Lancaster Castle and then on the Isle of Man, he developed a fitness programme for his fellow internees to maintain their health and fitness levels. According to Pilates, due to his fitness regime not one of these internees died during the 1919 influenza epidemic.
Following the war he returned to Germany and became involved with dance professionals, in particular Rudolf von Laban, the creator of the widely-used dance notation system 'Labanotation'. Ballerina and teacher Hanya Holm included many of his exercises in her programme and they are still part of her celebrated 'Holm Technique'. He also provided self-defence training to the Hamburg police force.
Declining an offer by the German Army to train them in Pilates, he decided to emigrate to the United States of America. On the boat he met nursery teacher, Clara, whom he later married. Together they established the first Pilates fitness studio in New York, sharing premises with the New York City Ballet.
The Pilates Method became popular with New York's elite ballet dancers because his exercises effectively supplemented and perfected their traditional exercise programme. Actors, sportspersons, wealthy society belles and celebrities were all attracted Pilates as a workout that built strength without bulk and balanced that strength with flexibility, providing harmony between muscle and mind.
Today Pilates is taught in several forms and reflects the legacy of Joseph Pilates. As a 'method' rather than a formal training program, Pilates has been continuously adapted by his 'disciples', who added their own variations to his core philosophy and exercises. This flexibility, and the ability of the Pilates method to be adapted to new physiological understandings, explain the continuing success and popularity of the Pilates Method.